SAiLORMOON INFO!!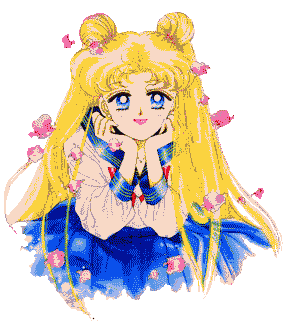 Sailor Moon can be a little irresponsible sometimes, but she is still a good friend to her friends. Sailor Moon is the Moon Princess sent down to earth from the Moon Kingdom.

SailorMoon's Japanese name is Usagi Tsukino; which means Rabbit of the Moon. Can you pronounce that name? (OO-SAH-GI SKEE-NO), but her name as a Princess was Serenity, but Serena for short.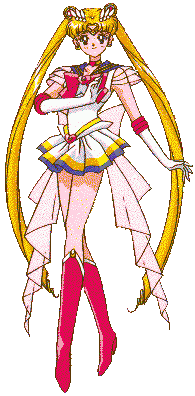 SailorMoon has several different identities which are Serena, Sailor Moon, Super Sailor Moon, Princess Serenity, and Neo-Quenn Serenity.

Sailor Moon's birthday is June 30 and she is about 14 years old, which makes her a Cancer sign in Astrology.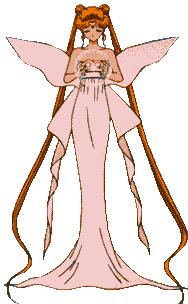 Sailor Moon has different transformations and these are the Moon Prism Power, Moon Star Power, Moon Crystal Power ,Moon Crystal Power Make Up, Moon Prism Power Make Up and Moon Cosmic Power Make Up.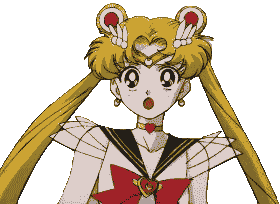 Sailor Moon has special powers that she can use. They are her special Sailor Moon kick, the moon tiara magic, a disguise power, moon spiral heart attack, moon healing activation, moon sceptor elimination, moon tiara stardust, Moon Princess halation, the rainbow moon heart ache, Moon gorgeous meditation, moon power, and moon tiara action.

Some different things that you may see Sailormoon using with her powers are a brooch and a pen which she uses for transformation. A spiral heart moon rod, holy grail, kaleid moon scope, moon sceptor, crystal star, cutie moon rod, cosmic heart compact, gunzuishou, and a communicator.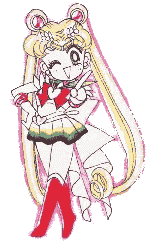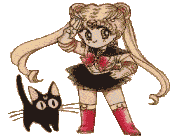 Sailor Moon enjoys eating, sleeping, whining, daydreaming about the boys, reading comic books, playing video games, and shopping.She also likes bunnies. Her dream though is to be a bride.

Sailor Moon's favorite school subjects are Home Economics and Music, but her less favorite ones are English and Math. ( I like English and Math). Her favorite colors are pink and white. Her favorite foods are peanut butter and jelly, ice cream and cake. (yum yum!!)Her least favorite foods are carrots, maybe she hasn't tried dipping carrots into salad dressing yet. She also doesn't like dentists, ghosts, or pop quizzes.